Archive for August, 2013
by admin on Aug.28, 2013, under Supply Review
Written by: Terry "Tramp" Welker & Trent Aitken-smith , Originally appeared in Tattoo Master Magazine, Issue Twenty One
Eternal Tattoo Supply is one of the long-established, worldwide names in the tattoo world. Started over 30 years ago by veteran tattooer, Terry 'Tramp' Welker, ETS is going stronger than ever… and that's no surprise given the skills and knowledge that Tramp has accumulated since first opening his studio, eternal tattoos, in Detroit in 1980. So when the opportunity to have a chat with Tramp about how it all started and how things have changed over the years came about, we grabbed it with both hands
Like most artists back in the '70s and the early '80s, tattooing was still very private; it was almost a secret how things were done. We were making our own needles, stencils, ink everything. You could get powder pigment from Spaulding and National and things were very simple. Most of us were only using primary colors, so your complete set only had eight to ten colors. For different shades, I'm sure most of us mixed it right in our ink caps.
"Remember, I started tattooing in 1976 and opened Eternal Tattoos in 1980. Back then there were only a handful of shops in each city and most of us learned by trial and error. When mixing my inks, I would ask around and I also ordered some Spaulding pigments and mixed it with Listerine and a drop of Glycerine. I would experiment and add a drop of Aloe Vera and Vitamin E, put it in a kitchen blender and mix it to the consistency I wanted"
And from those humble beginnings Eternal Ink was born. After making all the inks for his own studio and with the steady rise in popularity of tattooing making the shop busier, Tramp hired a couple of artist to apprentice and work for him.
"Whenever we needed ink I would ask them, 'Hey, do any of you want to learn how?' they always said no because it was so messy, and so they didn't want to do it"
However they still wanted the inks and they would badger Tramp, telling him that he should think about making them up himself and selling them on. And that's just what he did.
"Being in the Business for over 33 years, I've been very fortunate to meet and know a lot of artist. With me doing the motor city Tattoo Expo for the past 18 years, along with my convention partner Brian Everett, and also hosting the Texas Tattoo Round-up for 13 years, I've met a lot of great artist, this being said, I was able to put my inks into the hands of a lot of artist when eternal ink started. I would hand my inks out and just ask for feedback from the artist. I made adjustments when needed and worked on my consistencies to be the best on the market. In the beginning I also had another person involved that wasn't an artist who I put a lot of trust in. They ended up leaving and it was actually a blessing having them gone."
Around the same time, a new music channel would start a new surge in people looking to get tattooed… things were about to jump forward in tattooing.
"Like I said, back in the beginning, the few colors we used were great. We were all doing mostly traditional tattoos. But then MTV came along and all the rock stars were getting tattoos and practically overnight tattooing changed- pro athlete, wrestlers, football players, basketball players… everyone was getting tattooed. It got to the point that I ended up opening five tattoo shops in and around Detroit. We were so busy it was crazy. All of a sudden everyone wanted to be a tattoo artist. Back in the day, I ended up apprenticing some of the biggest name in the industry – Tom Renshaw, Jay Wheeler, Marshal Bennett, Bob Tyrell- just to name a few."
But one of the downsides of the rise on demand for tattoos and tattoos supplies was that Tramp ended up having to stop tattooing to run his business. A warehouse was built just outside of Detroit and Tramp began to spend all of his time there, concentrating more on his inks.
"My son Jesse was, and is also a tattoo artist, and I finally got him to come out and help me with the inks. Jesse has tattooed for 20 years and now he runs the ink mixing room. With over 150 colors and working with so many great artist, we pride ourselves on not only being tattoo artists but on making the best tattoo inks on the market,… and with the best consistency, second to none. Our color blends are perfect match each time. Our job is to give the tattoo artist what they want each and every time; our dedication is to them.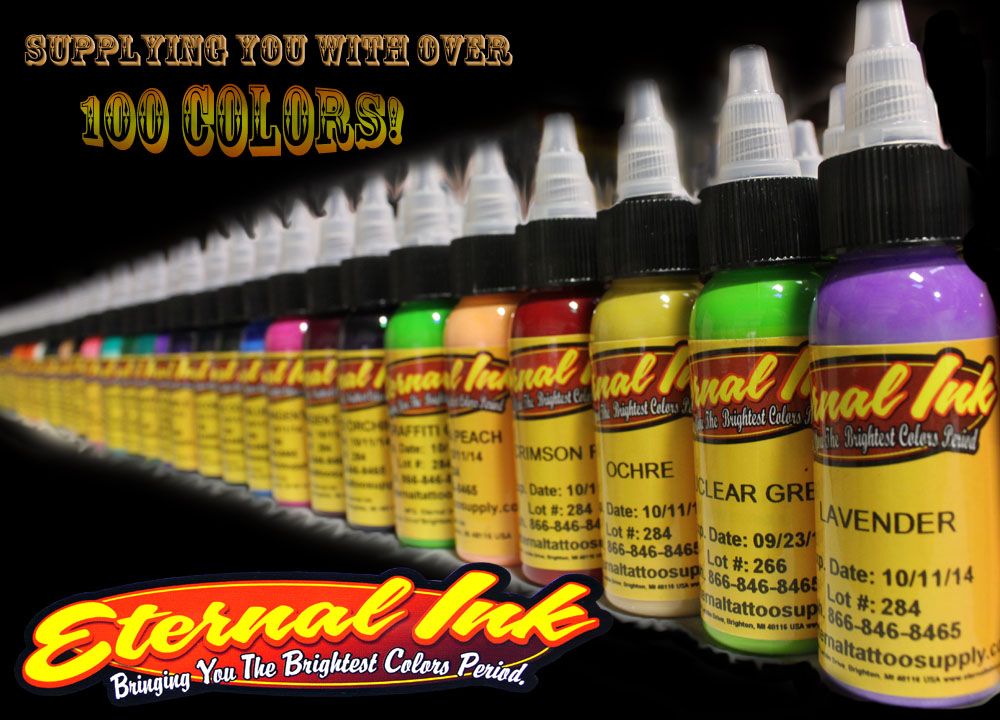 But eternal is no longer just an ink supply company. Over the years, Tramp has worked hard in building it into a solid tattoo supply business, where it is hard not to find exactly what you need.
"Eternal tattoo supply and eternal ink continue to grow each year. I have been fortunate enough to see that industry expand and keep on growing. And with society now seeing tattooed people as the norm with most people having tattoos, or at least knowing someone with a tattoo; it has become much more acceptable in the working field. At one time, and still in some cases, people were afraid to show their tattoos thinking they would be look at differently, but now with so many people being heavily tattooed and the quality of the work being done, people are asking to look at your tattoos because of how good the work is.
"Over the years we have become a full supply company and our goal is to give the artists the pest products we can. Being artist ourselves, we can understand the wants and needs of the artist ad we can answer any questions they may have. Anytime we get a call from the artist and one of my staff feels they can't give the right answer or if someone wants to speak directly to me, I'll take the call, and if I can't take the call right them, I make it a point to return all calls. My relationship with the artist, knowing their needs, and providing them with the highest and best quality of ink, is my priority. I'm working with some of the best artist in the industry and making colors for some of them which gives us all different shades and blenders, so the artist has everything all made for them. I continue to search out the best products needles, tubes, machines, etc., to give the artist the best of the best."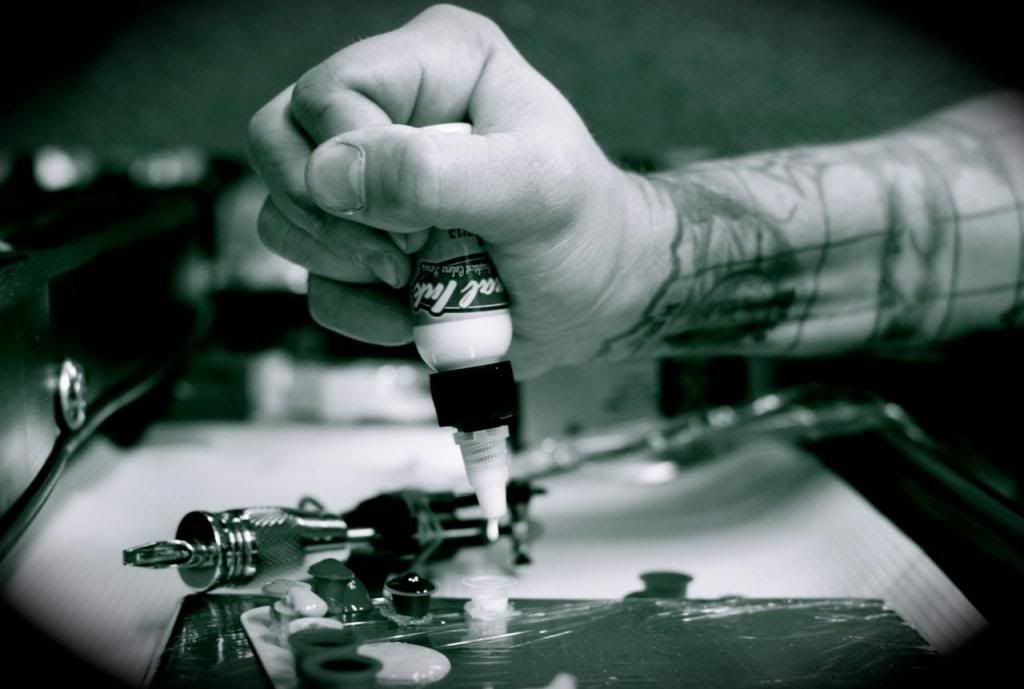 And with all this work, dose Tramp still get time to tattoo?
"I guess you could say I'm totally focused on ETS. With so much going on each day at my warehouse, between the inks and our line of tattoo machines, it doesn't leave me a lot of time to do much more, I did a tattoo last year- I felt very happy doing it and it was a lot of fun. It's like riding a bike, once you figure it out and learn it, you don't forget it. With all the time in between tattooing and not tattooing I think I got better at tattooing."
The tattoo world is a fickle place, and for someone like Tramp and Eternal Tattoo Supply to stay the distance, there has to be more than just a great product. And it's not only hard work and dedication; it is being a part of something you truly believe in and love.
"Man, I'm old school, and I'll never forget where I came from and where I started. I was a one-man shop when I started out. Tattooing has been good to me and I try and give back as much as I can. I've been here from the late '70s when there were only a handful of shops, to the mid-'80s when the industry started picking up and then in '90s when tattooing exploded, I don't want to look back on any regrets, because what's done is done. I've made a lot of friends doing what I do and without them and the artists' support; we wouldn't be where we are today. This is what feeds my family and the great group of people I have working for me, we continue to move forward because of them… the Artists."
Comments Off

on Ink The World
more...
by admin on Aug.26, 2013, under Supply Review
Written by: Mario Rosenau & Trent Aitken-smith , Originally appeared in Tattoo Master Magazine, Issue Twenty One
Mario Rosenau started Stencil Stuff back in early 2006; before then, he had been making his own stencil transfer based on an old, passed down recipe, but was finding that it never worked the way he wanted. At the time, Mario and Mike DeMasi (Art Junkies co-owners) were really pushing the realm of color realism,and as their designs were very complex, they needed their stencil to stay on better in order to pull off what they were doing…
In an effort to come up with a better product, mike began to play around with the old formula to see if he could improve on the recipe.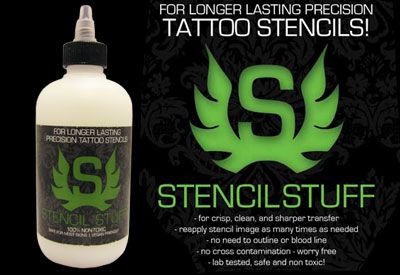 "after some trial and error, i was able to create a better sticking solution. At the time i was just making it for all of us in the shop. then one day, on of the guys in the shop said, 'hey, this stuff works so well you should sell it!" A few of the guys laughed and teased me, but being very competitive in life i was like, 'Oh yeah, ok, we'll see. i'll show you'. And that is how it started. the name stencil stuff was really or nickname for it and it just stuck. The guys would shout, 'you got any of that stencil stuff?' The name just seemed to fit".
In the beginning, Mario spend a lot of time trying to work out how to make stencil stuff a viable product, as well as figuring out the means to get it onto the streets and into the public's hands.
"i knew from my background before it began tattooing, that doing it myself, although it may have worked, was not really the right way to mass produce stencil stuff…nor was it perfect. After countless hours of research, i was able to team up with one of the leading chemists in the skin care industry. together we created a formula that was free of any harmful chemicals and was safe to be used for what it was intended to be used for."
Right around the time Mario was Finalizing the formula for Stencil Stuff, one of this best friends, Mike DeVries, came on board as his partner. With everything falling into place and two creative and passionate minds working towards the same goal, Stencil Stuff started making its mark on the tattoo world.
"Mike is a very special guy and we think alike when it comes to developing things. Stencil Stuff really went to a whole new level when we partnered up and it was a perfect fit for us. We had the same goal, to develop products that would improve our industry. It is the most important thing to us. What really separates us from everyone else is that we work hands on and with professionals that understand what is needed to created safe products. Products that are lab tested and approved so as to be able to safely state that they are hypoallergenic and safe. We have invested a lot of time and money into our products, and it feels good to know that people appreciate the extra steps have taken to make sure that what we do is the highest quality for them and their clients. we really take pride in what we do. it's really crazy to think that we have developed a product that has a brand name in which everything is called byt the same label…Stencil Stuff. it's kind of like what the name Kleenex is for tissues. it's just surreal"
In the beginning, Mario started running the business out of his house, but it didn't take long to outgrow the space and it would be several more moves before stencil stuff found its current location.
"almost two years ago we purchased a warehouse in southern California. At times i wonder how long it will be before we will have to expand that. the warehouse is not open to the public as it really is just a warehouse to ship products out of. I have a shipping manager that handles all shipments and a full-time outside salesman that handles all of the accounts. We have a lot of dealers out there. we are currently shipping all over the world and expanding into new countries every week, Larger amounts of products are shipped directly from our Manufacturer, which is a good thing because we would need to place three times the size if we did it all.
"it's been a learning experience for sure. if you look at our bottles you will see multiple languages as we follow all the guidelines so we comply with all regulations… which is really what we are about, going to above and beyond. What most people are doing our there. Sometimes the Things we do are not even enforced in our industry, So if we follow these high standards, we really feel that we are making sure our customers will get the best out of our products."
And Stencil Stuff is not the only product that mario and the team produce. there is a lot more 'stuff' on their shelves that are gaining just as much popularity as the original.
"We created Spray Stuff which is used to keep your marker drawings on better. Artist that use it really love it! We put the same quality into it to ensure its safeness and it really does work great. it's the only thing on the market like it.
"We have some amazing new products coming out this year. The first one we are super-excited about because it's something we have not had that was developed specifically for its purpose… prep Stuff. And it does just what it says! You use it to prep the skin before you apply the stencil. it sanitizes the skin by removing 99.9 percent of bacteria that can be harmful when you're tattooing. However, unlike soaps or alcohol, it will not remover the important oils in the skin that are needed for good healthy healing. it also makes the Stencil Stuff and Spray Stuff work even better."
"Mike and i have been really blessed to have both been able to be a part of this industry. We have had success with our shops and careers as artists, but one of our biggest rewards is being able to give back to everyone else! By helping them out, providing products that will allow them to do what they do best, while knowing it's 100 percent safe to use. We are not guys mixing up stuff in our kitchen and shipping it out. We have the product filed and each batch is tested before we get it to ensure that it is the highest quality it can be. It has not been easy the way we have approached it, but we would not have it any other way."
Another reason for Stencil Stuff's continued success has been their working relationship with Sullen Clothing and Sullen TV
"Ryan and Jeremy have teamed up with us to reach out to the industries need for better equipment for the travelling artist, like our recent line of the travelling arm rests, Rest Stuff. Alongside Sullen's new travel bags, it has helped us branch out to fill a much needed void in the industry. And it has been great working with them. We will soon have the second edition of our travel arm rest with many new features."
and it doesn't look like it will end there. With everyone behind Stencil Stuff fully immersed in the tattoo world, it won't be long before we see another successful product making it into the studios.
"it's important for us to keep pushing the limits with what we do and continue to push the standards of our products. And, of course, we would not be here without the support of all of our loyal customers. they have all been influential in the success of our company and we thank you."
Comments Off

on The Right Stuff
more...