Archive for September, 2013
by admin on Sep.11, 2013, under Supply Review
Edited by: Trent Aitken-smith , Originally appeared in Tattoo Master Magazine, Issue Twenty One

Name: Andy Dykes (Timeless)
Location: England
Years Building: 7
Contact Details: www.andydykes.com
STARTED TATTOOING…
I tattooed my first customer around 2006. It was the outline of a piece of tribal on my buddy's leg. Let's just say it was a nerve-racking experience to say the least.
HOW DID YOU GET INTO MACHINE BUILDING?
My previous job, before I stated tattooing, was as an apprentice tool maker. So as you can imagine, It wasn't long after I started tattooing that I started to 'tinker' with my machines; probably because they were all crap and never ran as they should. I started off with rebuilds for myself, then for a couple artist I know, and then I progressed onto making frames… with nothing but a hack saw, drill press and bench sander, they were all bot up frames.
After a while I stated to save up some cash so I could purchase a manual mill and a lathe, which made life so much easier. Also at the same time, my dad taught me how to weld. It wasn't long after I started figuring out how to make all the components needed to build a solid, handmade machine.
FIRST MACHINE YOU OWNED…
It was from a local tattoo supplier, very prematurely in my career; I didn't know any better and wasted my money. I still have that machine ad it definitely will never get used again. I've been tempted to rebuild it on numerous occasions but as it was my first, I'm going to keep it all original as a memento.
FIRST MACHINE BUILT…
It can only be described as a heap of junk. It had a bolt-up fame that resembled a Zeiss animal marker. It didn't run too well at all. It was solid, but I didn't give any though to geometry at all-to this day it's by far the slowest machine I have ever built…and it was supposed to be a liner.
FAVORITE MACHINE BUILDER…
It's too hard to say. I have a lot of builders I admire and have drawn inspiration from over the years. I'd say all-time favorites would be Percy Waters or Paul Rogers. As for modern day favorites, ids probably say Scott Sylvia, Morgan Pettit, and Donnie Irish, Build my favorite machines that I only personally… Closely followed by half-a-dozen others.
FAVORITE DESIGN INFLUENCE…
I try to base my machines off the old classics. They did all the hard work, they figured to what would or wouldn't work. That's probably why I like my machines to look old and distressed. They have more soul and look like they have a story to tell.
FAVORITE MATERIAL TO WORK WITH…
It only use steel/iron to build my machines. I'm thinking of getting into brazing a little more, so maybe in the future I may also start using some brass from time to time.
WHAT ARE THE BIGGEST CHANGES IN MACHINE BUILDING OVER THE YEARS?
I haven't been building machines to tattooing long enough to give a worthwhile opinion. Although, in the short time I have been building machines, I have noticed more and more 'machine builders' coming out of the woodwork. Most only assemble machines, and 99 percent wouldn't know how to build a machine from raw materials.
WHAT DO YOU THINK IS THE BIGGEST THREAT TO MACHINE BUILDING?
The cheap, imported and readily available parts and machines that are ever present on certain auction websites, as well as numerous other websites. It makes any one with an allen key, who can tighten half a dozen or so screws, into a machine builder these days.
WHERE DO YOU SEE THE FUTURE FOR MACHINE BUILDING?
Its hard to predict. As long as people support builders who put time, effort and care into building a machine, then hopefully it'll be good. Tattoo artist often moan about people putting out sub-standard tattoos on people and encourage customers to go the artist that can do the tattoo the most justice, regardless of time and price… well the same can be said about tattoo machines. Do your research, get recommendations, and find the right person for the job.
Comments Off

on The Soul of a New Machine Part One: Builder "Timeless"
more...
by admin on Sep.04, 2013, under Supply Review
Edited by: Trent Aitken-smith , Originally appeared in Tattoo Master Magazine, Issue Twenty One
I have always loved tattoos, but my love of tattoo machines came about much later; it took a visit to a machine builder's workshop and seeing a machine being built from scratch that changed it all. From that day, I saw the soul of a hand-built machine, and since then, I have been fascinated. When I became editor of this magazine, I wanted to acknowledge builders who do everything by hand, and so , the Hand-Built Machine Award was born. Five Builders were chosen from around the world to take part; the brief, make a hand- machine that not only looks great but works hard too. So here we go, let me introduce the five machine builders up for first ever, Hand- Built Machine Award…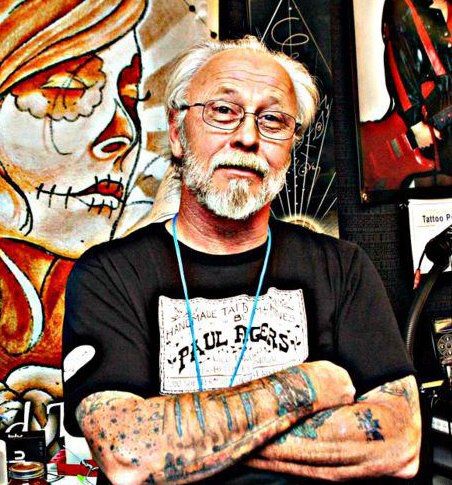 Name: John Black (The Man In Black)
Location: Charleston, South Carolina
Years Building: 34
Contact Details: [email protected]
FIRST MACHINE BUILT…
I built my first machine from scratch in 1979.
FAVORITE MACHINE BUILDER…
I think my favorite machine man would have to be Paul Rogers, Then leon Miller.
FAVORITE DESIGN INFLUENCE…
My favorite Design would have to be a simple and plain pre-fab. I'm influenced by many things. But most of all I'm driven by the deep-seated desire to just make things and enjoy life.
FAVORITE MATERIAL TO WORK WITH…
I really like working with iron and old rail road spikes.
WHAT ARE THE BIGGEST CHANGES IN MACHINE BUILDING OVER THE YEARS?
The biggest change I've noticed lately is people making an effort to get back to a clean, basic build. It's nice to see people making a machine and refraining from gluing crap all over it.
WHAT DO YOU THINK IS THE BIGGEST THREAT TO MACHINE BUILDING?
The biggest harm, I think, would have to be… too many people buying frames, coils, etc., and then trying to see them from a premium price devaluing the work of craftsmen.
WHERE DO YOU SEE THE FUTURE FOR MACHINE BUILDING?
I'm not going to try and predict the future of machine building; it's got so screwed up in the past 15 years. I'd hate to think it was right in the future, much less next year. As a tattooer I've come to grips with my life and thoughts on tattooing. My tattoos will be dead and gone many years from now, but the tools I make, that people make a living with, will be here as long as the iron doesn't rust away. And that's some good shit.
Comments Off

on The Soul of a New Machine Part One: Builder "The Man In Black"
more...